PROPER WIDTH & LENGTH MEASUREMENT:


P. O. Box 461104 - Garland, Texas 75046-1104

License #TACLB006134C

Insured


Call Now for your Spring

A/C Tune-up!

Click on 
Coupons
 for our Specials...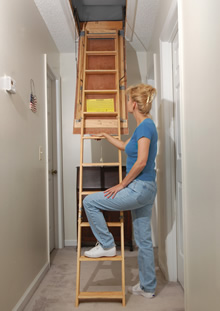 STOP  WASTING YOUR HARD EARNED MONEY !  -  CAll Suits A/C TODAY!

The folding ladder is hinged to the attic stair box frame.

Measure the "outer" width and length of the attic stair box frame.

Most important is the width.

-OR-

Measure the width and length of a rough frame (read below)

and pick the model that is closest.

PROPER MEASUREMENT

Please, read the following...

All Attic Models are designed to fit attic home trusses constructed with a minimum of 2" x 6" or better frame height (also called the rough frame when mounting attic stairs, the same frame you would floor attic on.)

The "most common" size attic stair sold are those with 7" heights.

Any questions call: Robert - 972-840-1151

The Attic Tent is a unique, clever and affordable product created by engineers at InsulSure(TM) to solve the problem of attic stair transfer/loss from the prospective of the homeowner. This invaluable product not only significantly reduces air loss (lowering your energy bill) but also provides safe and easy zipper accessibility into your attic.

***If you are in our

service area...

We would be happy to deliver and/or install

locally one or more

Attic Tents for you.

Please, check pricing

(click BUY NOW button).

Otherwise... We will be happy to ship your order.

NATIONWIDE SHIPPING AVAILABLE!

  REDUCES ENERGY BILLS!      EASY 1-2-3 INSTALLATION !  



We proudly service the

DFW Metro Area, Garland, Mesquite, Sunnyvale, Rowlett, Rockwall, East Dallas, North Dallas, Frisco, Allen, Farmers Branch, Carrollton, Richardson, Plano, Sachse and Wylie areas of Texas.

Please, call us to see if we service your area...

We believe in honest, outstanding service at fair, competitive prices...

For the ongoing comfort and satisfaction of our valued customers.

Comes fully assembled,

ready to install!