P. O. Box 461104 - Garland, Texas 75046-1104

License #TACLB006134C

Insured



Call Now for your

A/C or Heating System Tune-up! Click on 
Coupons
 for our Specials...
TWICE Yearly is Recommended

Attic Tent = The energy saving attic access insulator.

Reduces Energy Bills!

The Attic Tent is the ultimate attic access insulation cover ever invented (attic stairs, scuttle holes, knee-wall doors and full-size doors.) Its primary design is to stop air infiltration between the home and attic, the most common medium for wasting costly energy, during both hot and cold seasons. The HVAC systems in homes are designed for a closed envelope making air balancing with supply and return air very critical. It also keeps out unhealthy insulation and airborne dust particles from the attic.

The Attic Tent is a specially engineered, patented insulator designed to create an air transfer barrier between your attic & living areas. It is a practical and economical solution to the problem of wasted energy through and around the attic door and stairs.

The average pull-down attic access stairs have a 1/4" gap around the door. This gap is the equivalent of a 7" diameter hole in the ceiling!

Comes fully assembled, ready and

easy to install using staples.

(add a bead of caulk for a tighter seal)

Sizes to fit most common attic entries.

***If you are in our service area...

(Please, Check Home page for Service Area)

we would be happy to install

or deliver locally an Attic Tent for you.

Please, check pricing (click on BUY NOW button).

Otherwise... We will be happy to ship your order.

NATIONWIDE SHIPPING AVAILABLE!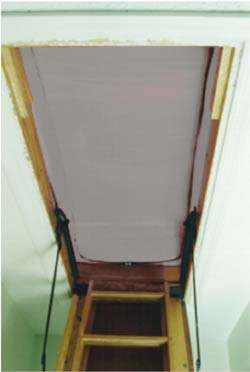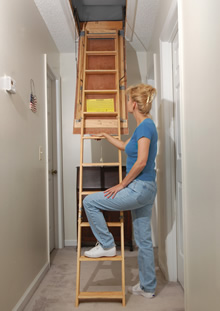 STOP  WASTING YOUR HARD EARNED MONEY !  - CALL Suits A/C Today!